Comparing pre-engineered steel buildings and reinforced concrete factories helps businesses understand the similarities and differences. From there, investors will make decisions more easily. Read the following article to find out what is the difference between these two types of factories.
1. Comparison between pre-engineered steel factory and concrete factory
The above two types of workshops have their own characteristics suitable for each use, requirements and budget of the investor. The following comparison table will help customers distinguish easily.
Criteria
Reinforced concrete factory
Steel frame factory
Architecture
Flexible shapes can be created, including flexible curving patterns created by the method of grafting the cast-in-place reinforcement.
Pre-manufactured at the factory according to available sizes and designs, it is not possible to create patterns and moldings easily.
Force-resistance

– Architects can easily design payloads.

– The ability to exceed the span: about 7m.

– Concrete structure has good load bearing but it is difficult to verify the quality because it is directly constructed at the construction site.

– Architects easily design payloads. Steel structure has a large load capacity with a cross section many times smaller than concrete.

– The ability to withstand tensile, compressive and bending forces of steel frames is also much better than concrete.

– The ability to exceed the span: from 9m to 13m.

– The steel frame is designed and manufactured synchronously at the factory, so the quality can be easily controlled.

Lifespan of works
Normally, reinforced concrete houses will degrade after 30-40 years. If built well and maintained and maintained regularly, the service life can last from 40 to 100 years.
The average life of pre-engineered steel frame workshops is not less than 100 years.
The ability to combine materials
Concrete can be combined with many traditional building materials such as sand, cement, brick, stone, wood,…
In addition to traditional materials, steel frame houses are also capable of combining with new, super-durable, ultra-light and environmentally friendly materials such as ecological roofing sheets, insulating foam, energy-saving glass, etc. …
Completion time
A reinforced concrete factory project with an area of ​​300㎡ usually takes about 6 months to construct.
The pre-engineered steel frame factory with an area of ​​300㎡ takes only half the time (3 months) to complete.
Price level
The cost of building materials for concrete factories is cheaper than steel.
High-grade, good-quality steels have high prices. However, the construction time of steel frame houses is much shorter, so the construction cost is still cheaper than the concrete factory from 10% to 15%.
Maintenance work
Upgrading and expanding is quite complicated and takes a long time because it needs to be chiseled, drilled, compensated, …
Repair, expansion is easy and flexible because the old structure has pre-drilled holes, so workers can easily remove bolts.

Steel frame workshops can be easily maintained and maintained.

Possibility of liquidation
The liquidation value of the concrete factory is low, it can only liquidate the reinforcement or bricks, but it takes a lot of time and effort to chisel.
The liquidation value of the steel frame factory is high, easy to dismantle and install, rebuild if you want to change the location.
Through the above comparison table, we can see that the pre-engineered steel frame factory possesses more advantages. Especially suitable if there is a need for future expansion.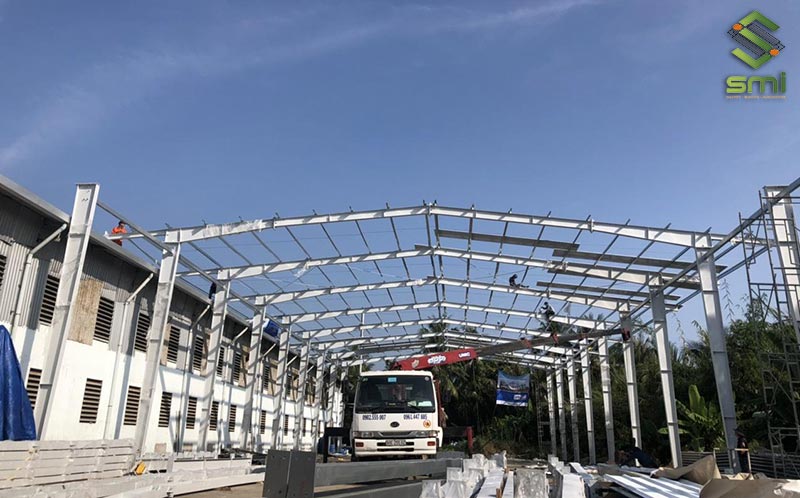 2. Should you choose to build a pre-engineered steel factory or a reinforced concrete factory?
The choice of which type of workshop will depend on many factors. Such as user demand, cost level, construction time, construction personnel…
Reinforced concrete factory will be suitable for businesses with limited space and can be built for a long time. The factory has no need to relocate or change in the future.

Pre-engineered steel factory will be suitable for businesses with large factory area to be built. Construction time needs to be quick and there is a need to expand in the future.
3. The most beautiful steel frame factory models today
Steel frame factories have both the advantages of cost and time and are suitable for most industries, so they are a very popular choice. Here are the most beautiful steel frame factory samples today, customers can refer to: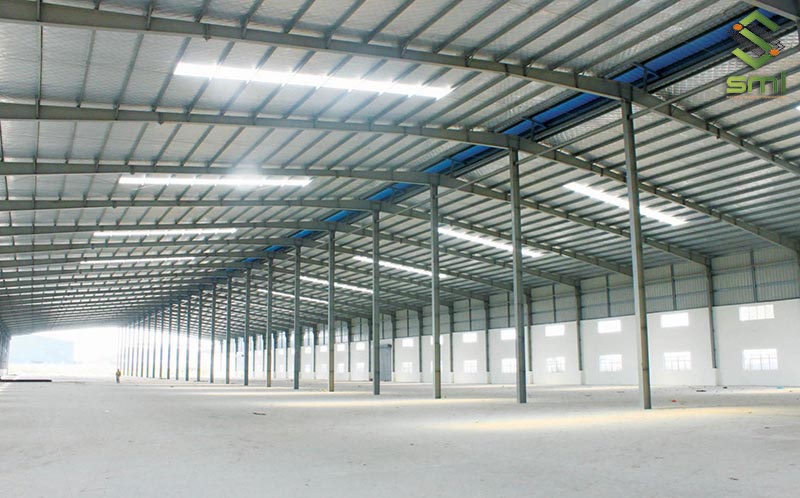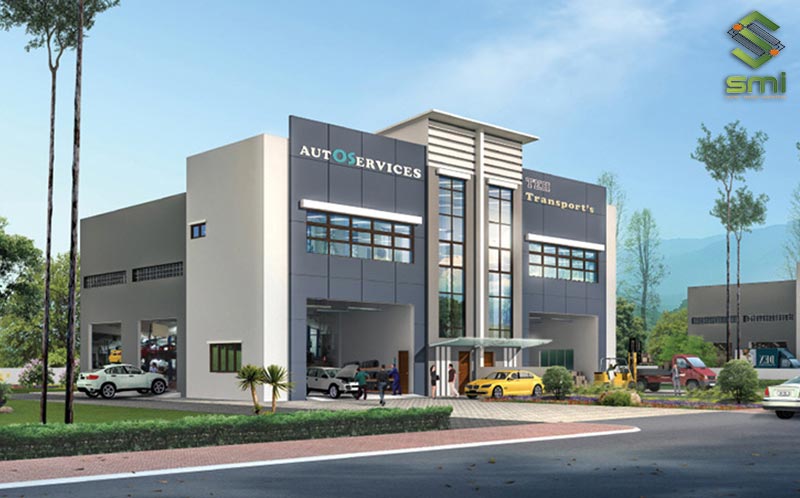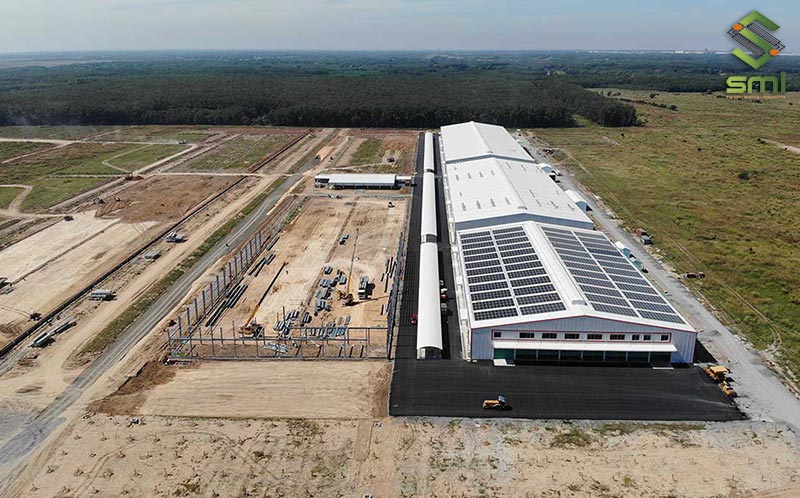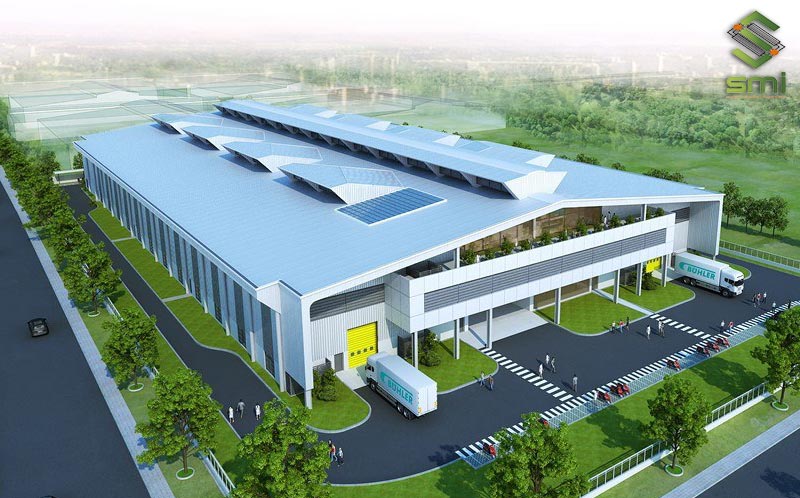 4. SUMITECH – The leading factory construction unit
SUMITECH is a professional factory construction unit with more than 12 years of experience. With a team of high quality personnel, SUMITECH has implemented many factory projects for many large units and corporations such as Honda, Goshi, ABB, Nippon Paint, TOTO,…
When choosing SUMITECH, customers can be completely assured of the quality and aesthetics of the project. In addition, all requirements of customers will also be fully met by SUMITECH. SUMITECH has gained the trust and cooperation of many customers, from small and medium enterprises to leading large companies and corporations in Vietnam.
Please contact SUMITECH through the following channels for advice on building pre-engineered steel buildings and reinforced concrete factories:
Hotline:

0989.060.987

Email:

info.sumitechvn@gmail.com

Address: Room 1702, N01A building, K35 apartment building, Tan Mai street, Hoang Mai district, Hanoi