Fire prevention and fighting is the use of machinery and equipment to ensure fire safety. This is the responsibility of each individual and organization, especially businesses. Therefore, everyone needs to be fully equipped with knowledge and understanding of the fire protection system.
1.

Concept of fire protection system
Fire protection system is a technical solution to minimize the risk of fire and explosion as well as serious consequences when a fire occurs. Help protect property and human life.
Sumitech has many years of experience in consulting, designing and installing fire protection systems. We have won a lot of trust and confidence from customers both in terms of product quality as well as professional work. We will send you knowledge about each type of fire protection system. This article will help you know which system is best for your business!
2.

Components in a fire protection system
It consists of two main systems: fire alarm and fire fighting.
There are many different forms of fire alarm and fire fighting. Therefore, there will also be different fire protection equipment, different manufacturers. Sumitech is a company specializing in distributing genuine products with the best prices on the market today.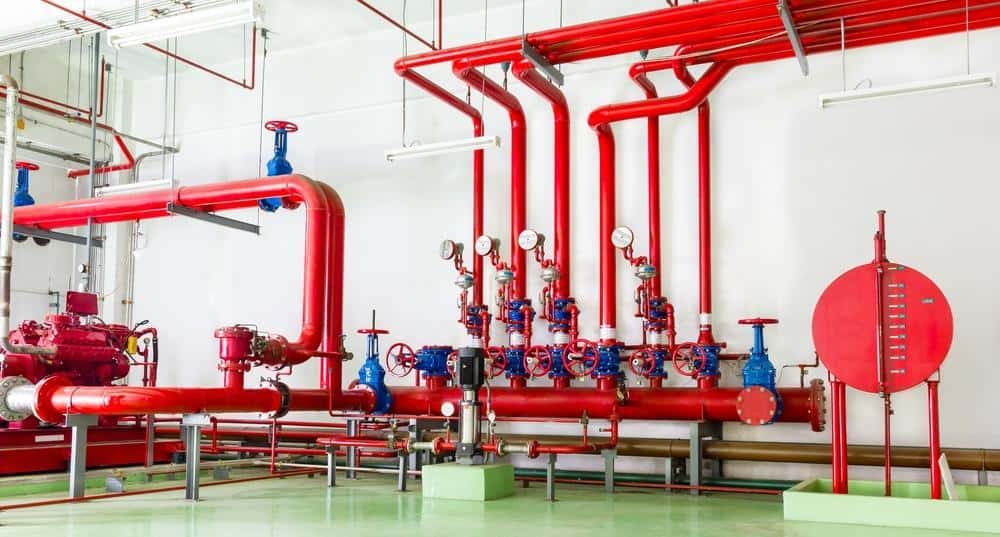 2.1. Fire alarm system
The automatic fire alarm system helps to detect the fire in time. It plays an extremely important role in fire prevention, the system consists of three parts:
Fire alarm center includes: control mainboard, modules, transformers, battery
Input devices include: detectors, emergency switches
Output device: display board, alarm, indicator light
Fire alarm systems are divided into two types:
Common fire alarm system: with simple features and low cost. They are often used in small or medium spaces. The equipment in the fire alarm system is connected in series and led to the fire alarm center. In the event of a problem, the center only generalizes and displays the entire area that the system is monitoring. This limits the identification of specific causes of fire and explosion and slows down the ability to handle the fire.
Addressable fire alarm system: has high performance. Used for installation in large space manufacturing plants. Or in companies divided into many separate departments. The equipment is also connected directly to the fire alarm center. The control center can clearly and accurately identify the point of fire and explosion and promptly fix it.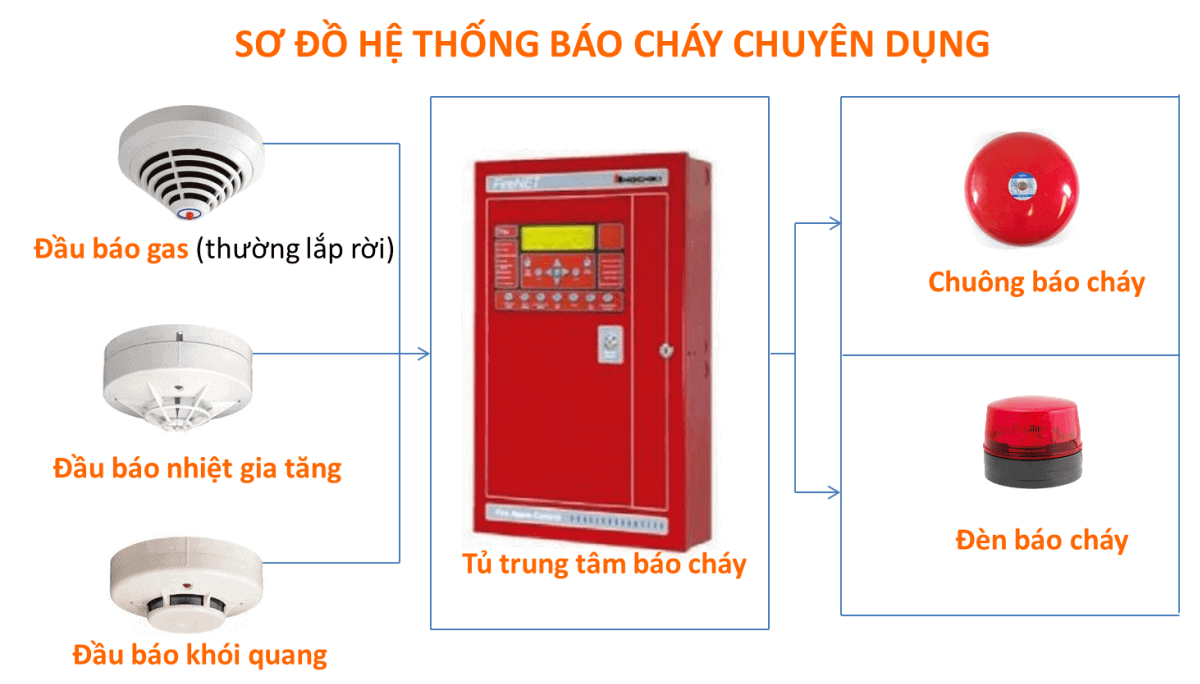 2.2.

Fire System
Automatic sprinkler fire extinguishing system
This is the most widely used system. When the temperature from the fire reaches a certain temperature, the sprinkler heads will be activated to spray water to extinguish the fires. However, this is only a temporary method. It is not capable of suppressing large fires and also causes damage to equipment and valuable assets.
Gas fire extinguishing system
We can use CO2 to extinguish a fire by diluting the mixture of air & CO2. At that time, the amount of oxygen will be reduced and the fire will be extinguished. CO2 can cause suffocation. More dangerous, it reduces respiratory failure leading to death for people in the fire area. So there will be a period of alarm before the system goes live. As a result, people can move away from the area around the fire.
People overcome this situation by using inert gas – a mixture of gases including CO2, N2, Ar. This gas mixture still helps to reduce the concentration of oxygen without causing harm to people or machinery and equipment in the plant.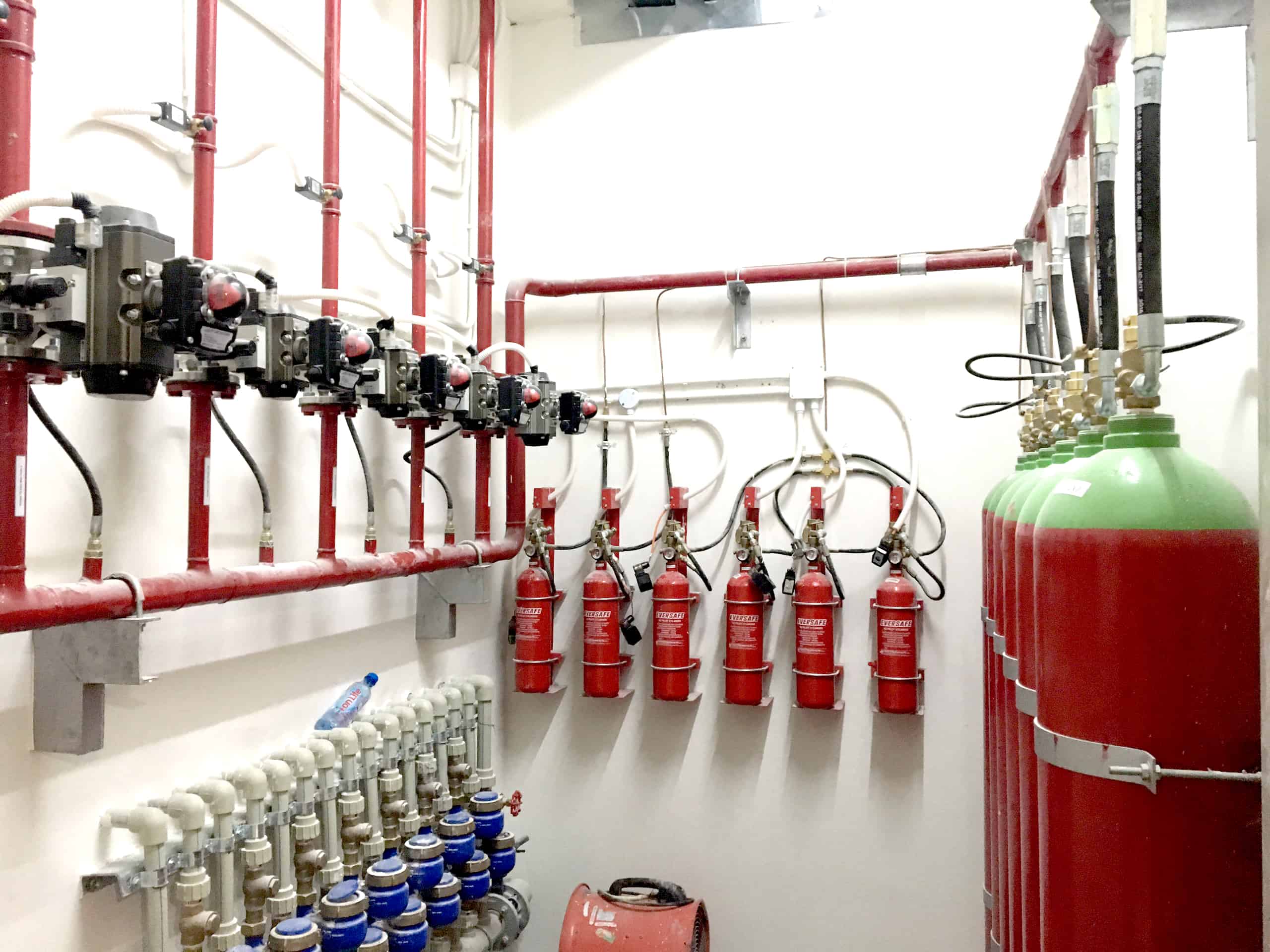 Foam fire suppression system
This system is generally used where flammable liquids are present. It will prevent the liquid from coming into contact with the fire, reducing the risk of spreading. This measure helps to minimize damage to equipment and machinery, and to reduce environmental pollution.
Foam is composed of: concentrated foam, water, air. This measure helps to minimize damage to equipment and utensils, and reduces environmental pollution. This measure helps to minimize damage to equipment and utensils, and reduces environmental pollution.
3.

Construction standards on fire protection systems
Prepare:
The parties proceed to prepare and meet the general schedule for the project.
Make a specific construction plan for the parties to approve.
Materials:
Raw materials are in accordance with the original profile. Any changes must be reviewed.
Must be checked and approved when brought into construction.
Originated and has undergone rigorous testing.
If it is an imported product that requires a clear CO, CQ.
Construction phase at the site:
Deploy according to drawings and plans, using approved materials.
Above, Sumitech sends you basic information about the requirements for a standard fire protection system. If you have any questions or need advice, please contact us at Hotline 0989 060 987 for support.