Not all mechanical processing establishments can perform well mechanical processing, turning, milling, grinding, and grinding without professional personnel. Therefore, before choosing, businesses need to consider the following issues.
1. Characteristics of mechanical processing, milling, milling, grinding
Mechanical machining is the creation of high-precision finished products by combining operations between machines, tools and technologies. These finished products usually originate from raw materials such as iron, steel, stainless steel , composite, plastic, rubber, etc.
Turning – milling – planing – grinding are the most popular forms and methods of mechanical processing today. Specifically in it:
Turning is a machining method that cuts and trims workpieces by the circular motion of the workpiece and the forward motion of the blade . When turning the workpiece and the blade will move vertically and horizontally to cut and shape the workpiece. This is the most common and common machining method. In mechanical processing workshops, lathes account for 25% – 35% of total equipment.
Milling is a machining method that uses tools with multiple cutting edges . The main movement for shaping the workpiece of the milling method is the circular motion of the tool combined with the tool feed movement in the vertical, horizontal and vertical directions. The volume of machining by milling method accounts for about 20% of the total machining volume.
Planing is a machining method used to smooth and flatten the surface of a workpiece . When processing planing, the tool and the workpiece move according to a certain rule. There are two common planing methods, roughing and finishing. This method is suitable for processing parts with small width but large length.
Grinding is a form of mechanical metalworking that uses rubbing between a grinding wheel and a workpiece, usually a metal workpiece . When grinding, the grinding wheel will gradually remove each thin layer of the metal workpiece, making the surface of the workpiece smooth and high-gloss. Grinding is used to create a smooth and glossy finish for parts of a certain thickness that cannot be achieved by other machining methods.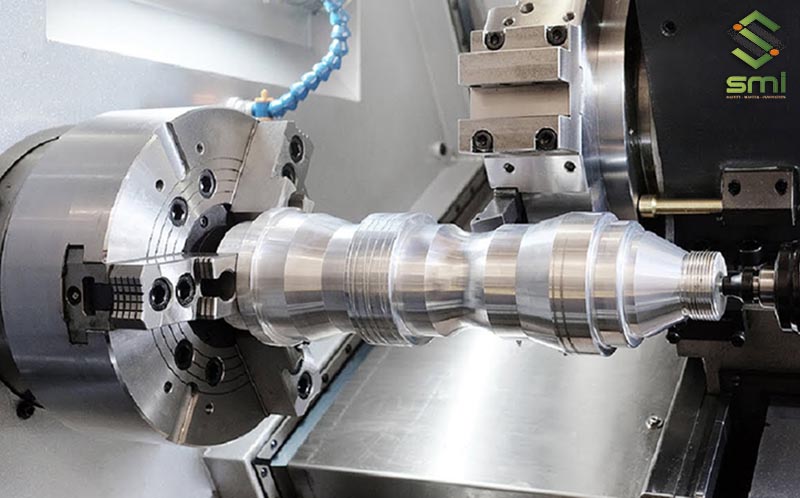 To ensure the productivity, efficiency and accuracy of mechanical processing, SUMITECH uses a modern CNC machine system, which is imported from abroad. CNC mechanical processing technology will bring products with the same accuracy as design drawings and very high performance.
2. Materials for mechanical processing, turning, milling, and grinding
Thanks to a system of modern machinery and advanced technology, SUMITECH now receives a full range of materials to meet the needs of customers.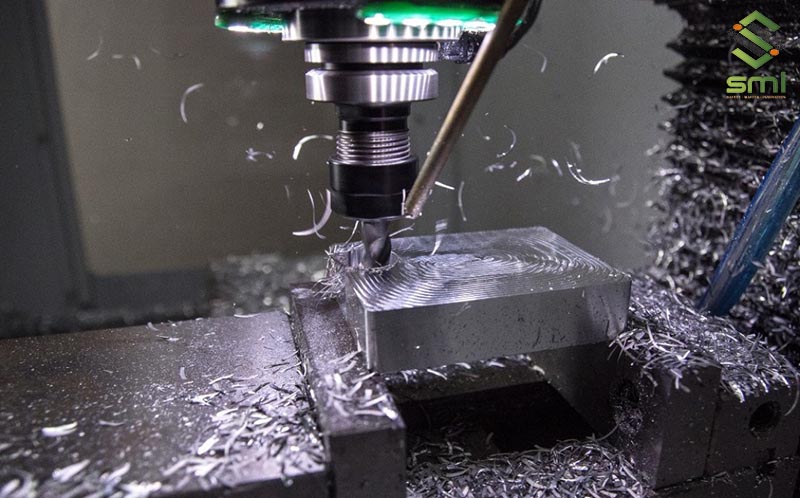 The materials SUMITECH are using in milling, milling, and grinding include:
Alloy steel grades: S45C, S50C, SKD61, SKD11, M2, D2
Ordinary steel: CT3, SS400
Stainless steel: Stainless steel SUS201, SUS304, SUS420, SUS430,…
Non-ferrous materials: Red copper, brass, aluminum, titanium
Plastic materials: POM, PE, PU, ​​MC, teflon (PTFE), HDPE,…
Wood material
See more: [Synthesis] 11 common industrial mechanical processing materials
3. Some finished products of mechanical processing, milling, milling, grinding
Machining, milling, and grinding can produce many finished products that meet many different uses. Below are some of the most commonly used types of finished products.
3.1. Mechanical processing of machine manufacturing details
Machining, milling, and grinding is an indispensable method in machine manufacturing . This method is used to create products such as gears, jigs, jigs, spare parts, components, machine parts, etc. In addition, it also manufactures punching dies, stamping dies, and fixing dies. shapes, cutting molds, injection molds, plastic molds, rubber molds, etc.
These are all small details but are indispensable components of machinery in industrial production.
3.2. Mechanical processing of civil and industrial products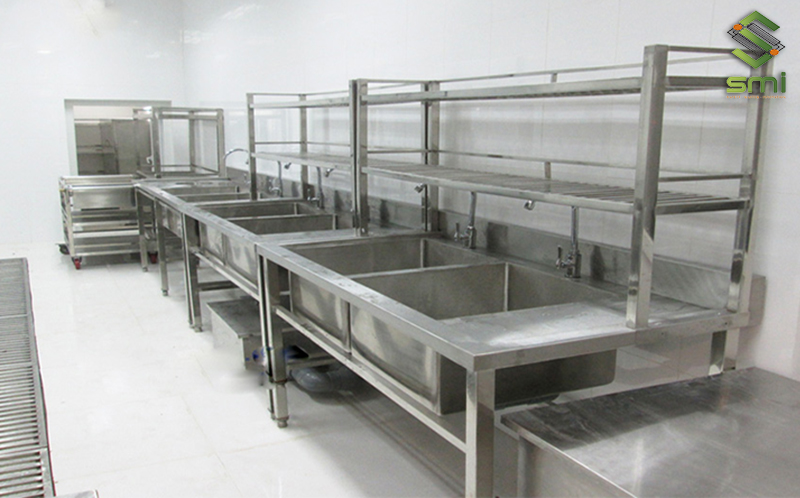 Common civil products that are processed for milling are kitchen cabinets, sinks, sinks, tables and chairs, household appliances, medical tools, production tools, shells of household appliances, etc.
3.3. Mechanical processing of construction materials
The method of mechanical processing, turning, milling, and grinding produces ladders, stairs, railings, doors, gates, fences, frames, anti-slip panels, interior decoration details, … for the field. construct.
3.4. Mechanical processing of jigs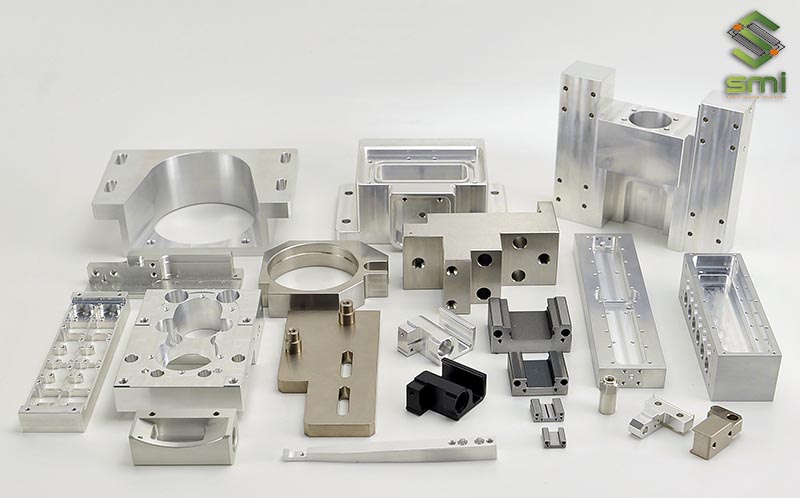 Milling and grinding are also methods used in mechanical processing of jig molds , jigs such as precision mechanical jigs, product mold jigs, turntable jigs, bending crown base jigs, and jigs. Glue jigs, jigs for mechanical machines, plastic jigs, jig part, etc.
4. SUMITECH's 5-step process of mechanical processing, milling, shavings, grinding
Known as one of the top 20 mechanical processing companies today. When ordering SUMITECH to process milling and grinding turning, customers will work according to a 5-step process as follows:
4.1. Receive requests for mechanical processing, turning, milling, grinding, and grinding
At the first step of the milling process, SUMITECH will receive product requirements from customers such as: dimensions, materials, tolerances, etc. SUMITECH pays great attention to this stage because it understands the requirements. Customers' needs are the premise to create quality products and meet the right purposes.
4.2. Consultancy, drawing up (if necessary), quotation for mechanical processing services
From understanding your requirements, SUMITECH's expert team will give advice to improve product quality as well as service quotation and estimated time of completion.
At the same time, we will design product drawings in case customers request.
4.3. Finalize the plan for mechanical processing, turning, milling, and grinding
After reaching an agreement on product requirements, implementation time and quotation with customers, SUMITECH will finalize the plan of milling turning and design drawings to send back to you.
4.4. Carrying out machining, milling, and grinding
Experienced engineers of SUMITECH will conduct milling and turning on the material according to the requirements of the drawings. During this process we constantly test the products to make sure they are of the best quality and exactly meet the customer's wishes.
4.5. Delivery after completion
SUMITECH always strives to provide precision mechanical processing services on time as promised to customers. After the product is completed, we will proceed to deliver the goods to the address requested by the customer.
With modern CNC machines and advanced technology, customers can be completely assured of the quality of mechanical processing, turning, milling, grinding, grinding at SUMITECH . To order and receive a detailed quote, businesses and individuals have needs, please contact us through the following channels: